Pure Shores_Lilypond Bure
The perfect escape for couples or singles.
The Lilypond Bure is elevated to catch the breezes and places you in amongst the mature trees and plants on the property. Great for bird watching!
Easy access with a ramp to the front door, no difficult steps to negotiate.
Excellent ventilation with high ceilings, state of the art remote ceiling fans and open plan.
Tastefully decorated with a modern and luxurious feel, embracing classic Fijian artefacts.
Fully self-catering, or by prior arrangement, we can have the locals cook your meals with a local flavour for you.
Starter "Pantry Pack" and "Welcome Basket" with continental breakfast.
Housekeeping every 3 days so that you are not disturbed, or can be arranged for more often should the need arise.
*UPDATE*. We also have a double sofa bed available if you are travelling with older children or parents, or another couple.
The beach is only minutes away, for those romantic sunset walks or a swim to cool off.
Experience the "real Fiji" in one of two Bures available.
Our Bures have been designed with couples and singles in mind. Coded keypad entry for your security.
Spacious 7 metre x 8-metre open plan living and well appointed throughout.
The kitchen features an island bench and two stools, full-size fridge, dishwasher, microwave and gas cooktop with rangehood. Bluestone bench tops imported from Australia.
Safe drinking water from the kitchen faucet, which is both UV and charcoal filtered.
The combined bathroom and laundry has a 5kg front load washing machine, bench top and sink. Vanity unit, WC and large walk-in shower with rainfall shower head.
Rinnai Gas Hot Water on Demand unit, to ensure continuous hot water from any faucet.
Luxury bath towels and beach towels are provided for your stay.
Outside the laundry door is a pull-out washing line.
Lounge/living has a chaise lounge, 55 inch flat screen HD LCD TV and DVD player.
Bedroom has a Queen size bed with a memory foam mattress and two bedside tables. Luxury 1000 thread count sheets and pillowcases are provided.
12-speed remote-controlled ceiling fans (2) for living and bedroom.
Small dedicated workspace for your laptop or iPad, with 2 x USB charging outlets. Wifi is available for keeping in touch with those back home.
Digital safe for your valuables.
Fully imported quality lighting throughout the interior and exterior.
Private covered rear deck area, with a gas BBQ and outdoor setting.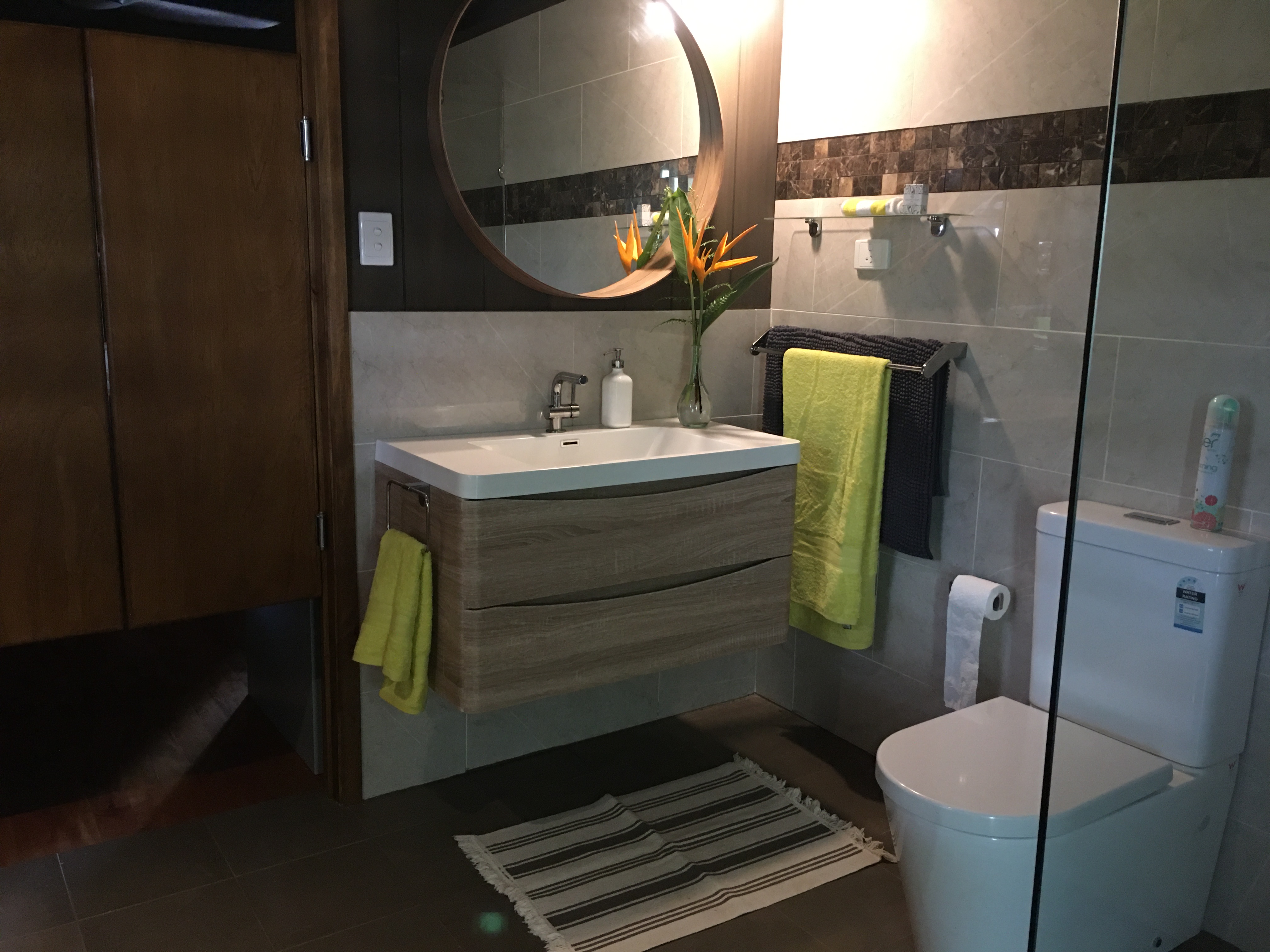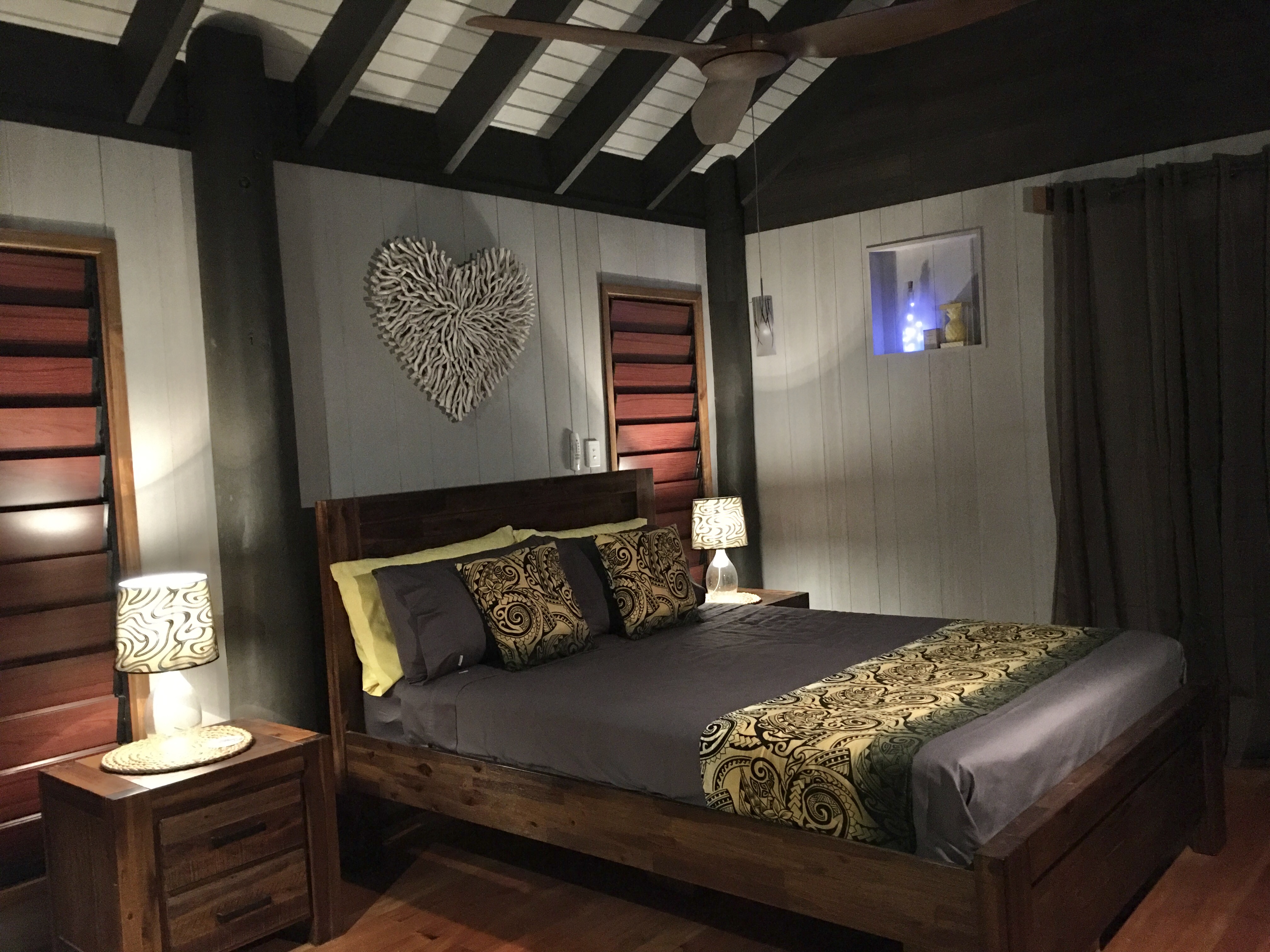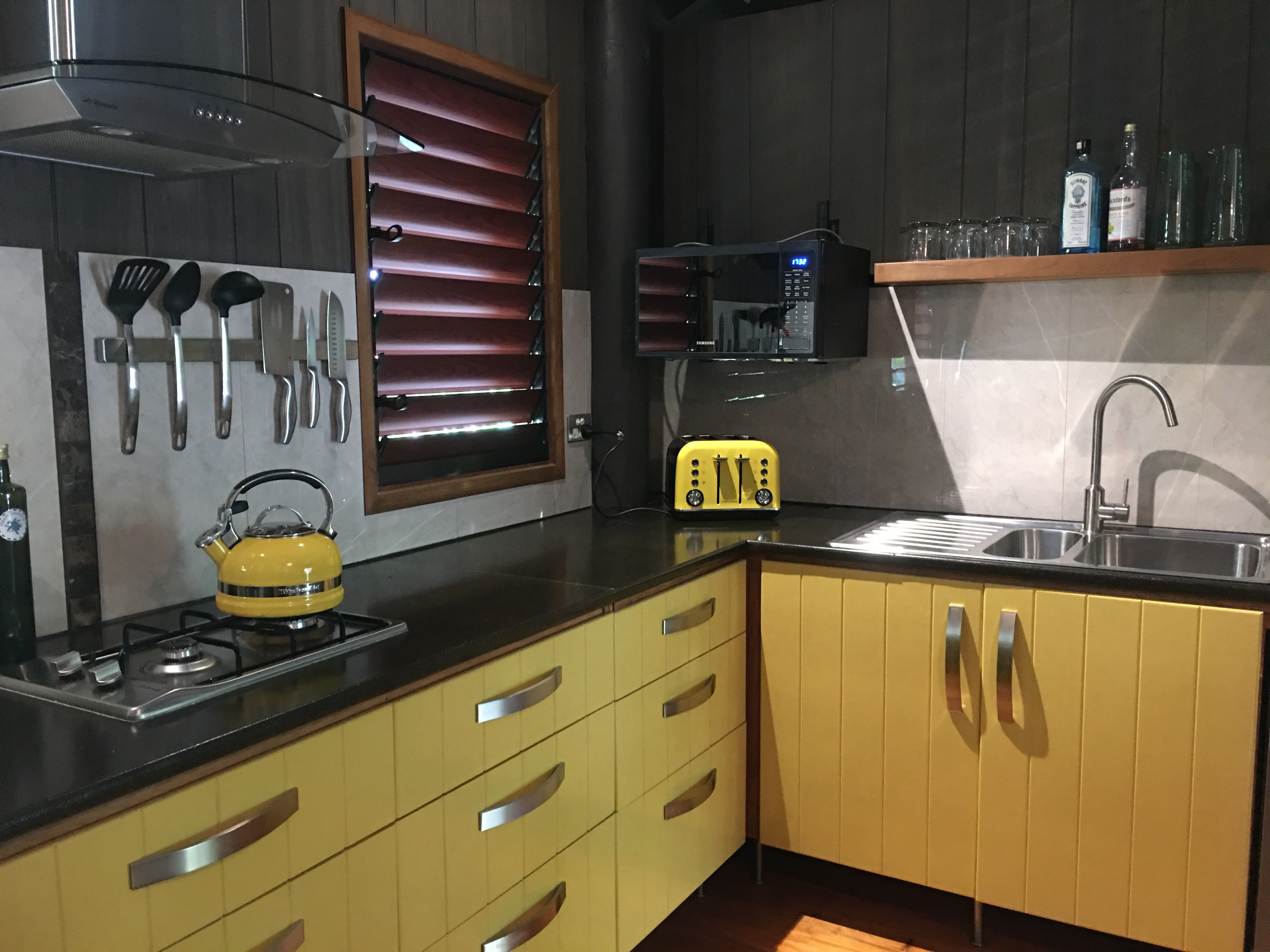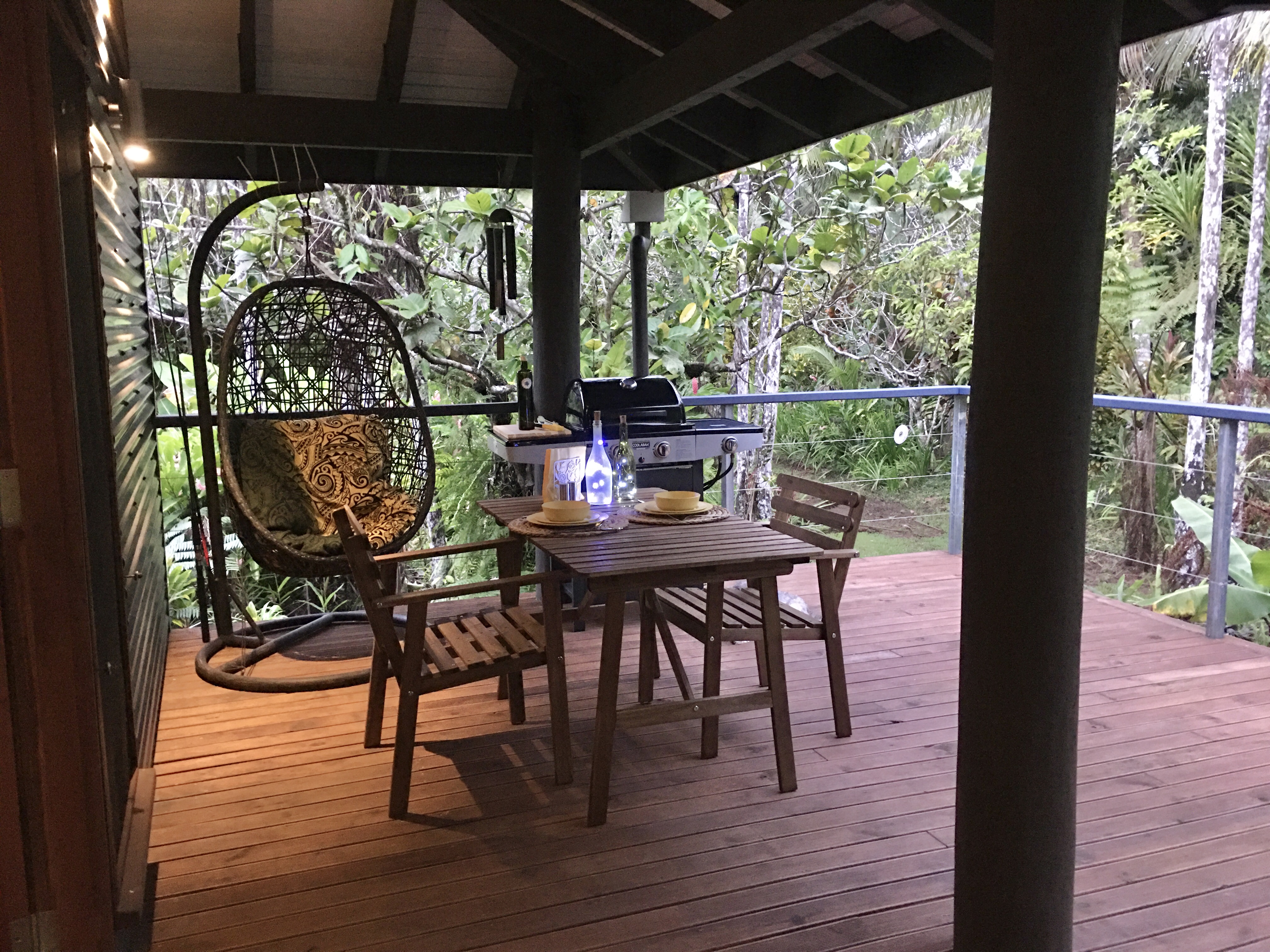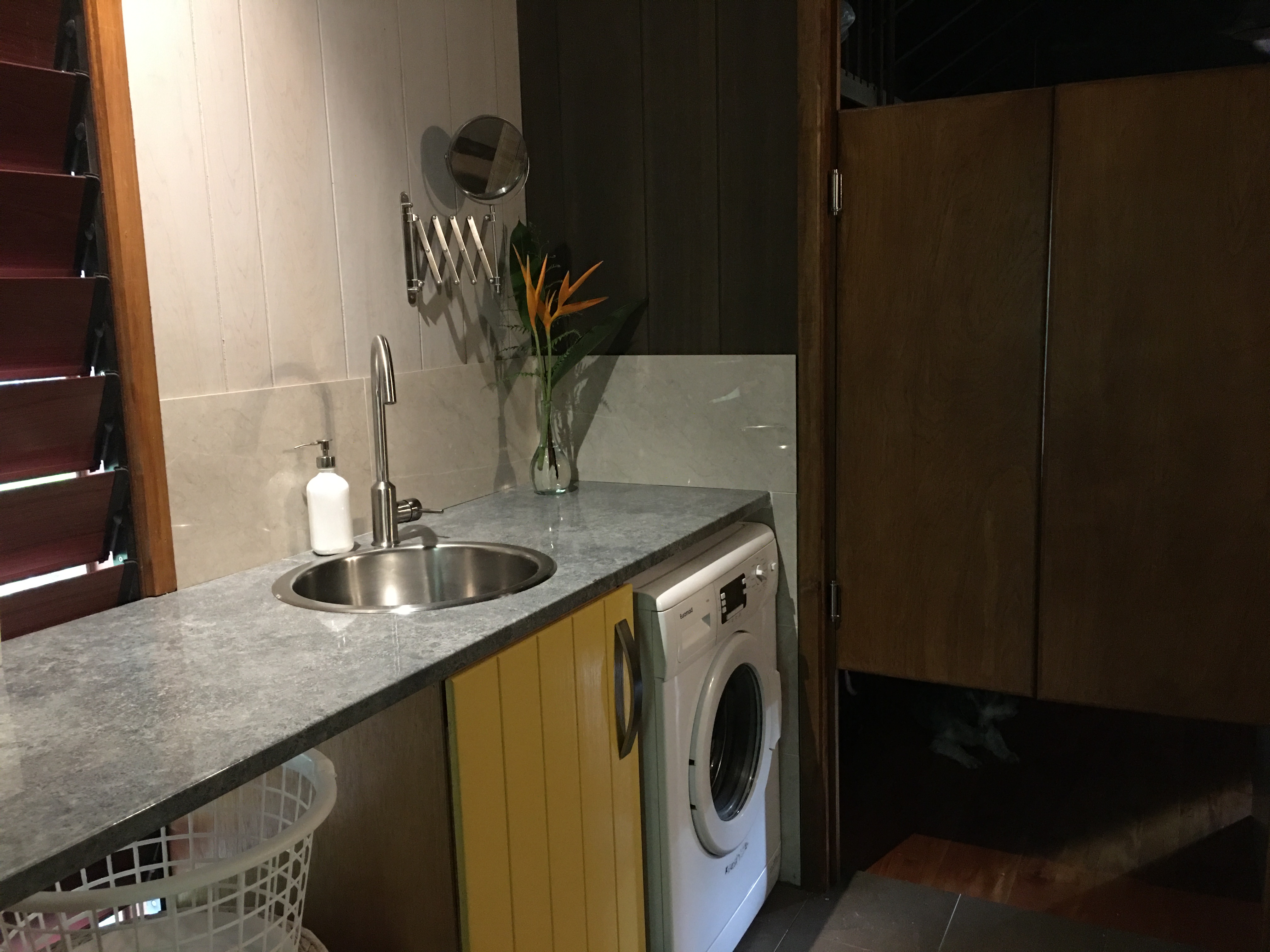 Savusavu town has a good selection of supermarkets, bottle shops and specialty stores, including souvenirs to take back home.
For fresh produce, you cannot go past the Market, which is open 6 days a week (closed Sundays).
Major banks include Westpac, ANZ and BSP.
Digicel and Vodafone both have booths in town for your mobile and internet needs.
There is a free wifi hotspot in town, near the Market and Bus Stand.
Places to eat include the Planters Club, The Copra Shed and Savusavu Yacht Club, The Captains Table and the Surf & Turf Restaurant.
Outside of town there are waterfalls, great places to hike, hot springs, great snorkelling and diving spots, fishing tours and Four Wheel Driving for the adventurous.
After arriving at Nadi International Airport, you will need a domestic flight to Savusavu. Local airlines such as Fiji Link and Northern Air provide services at least twice a day.
Nasekawa is approximately 25 mins from Savusavu town and 30 mins from Savusavu Airport.
We offer free transfers for our guests, to and from Savusavu Airport.
If you choose to fly in and out of Labasa Airport, it will take approximately 1 hour and 20 mins, driving along the Cross Island Highway.
There will be a charge for transfers to and from Labasa Airport (inquire upon booking) or there are many taxis available.
Major roads are tar sealed.
The turn off to Nasekawa is signposted only as "Private Road". Please be respectful of other residents that live here and keep your speed down on the gravel road into the Estate.
Follow your nose along the road down towards the beach. Take a RH turn at the bottom and you will see our sign where you take another RH turn.
Welcome to Pure Shores Resort!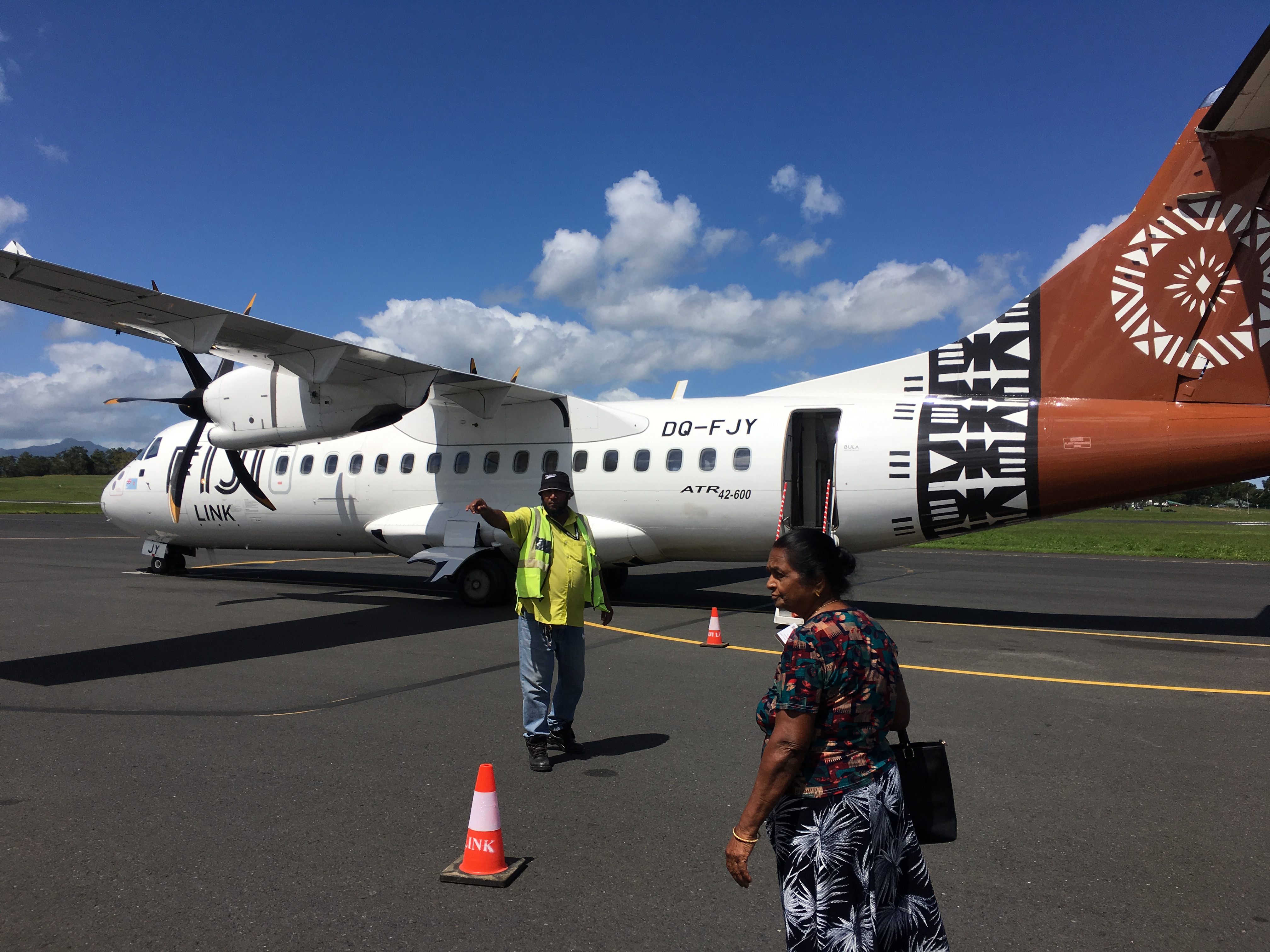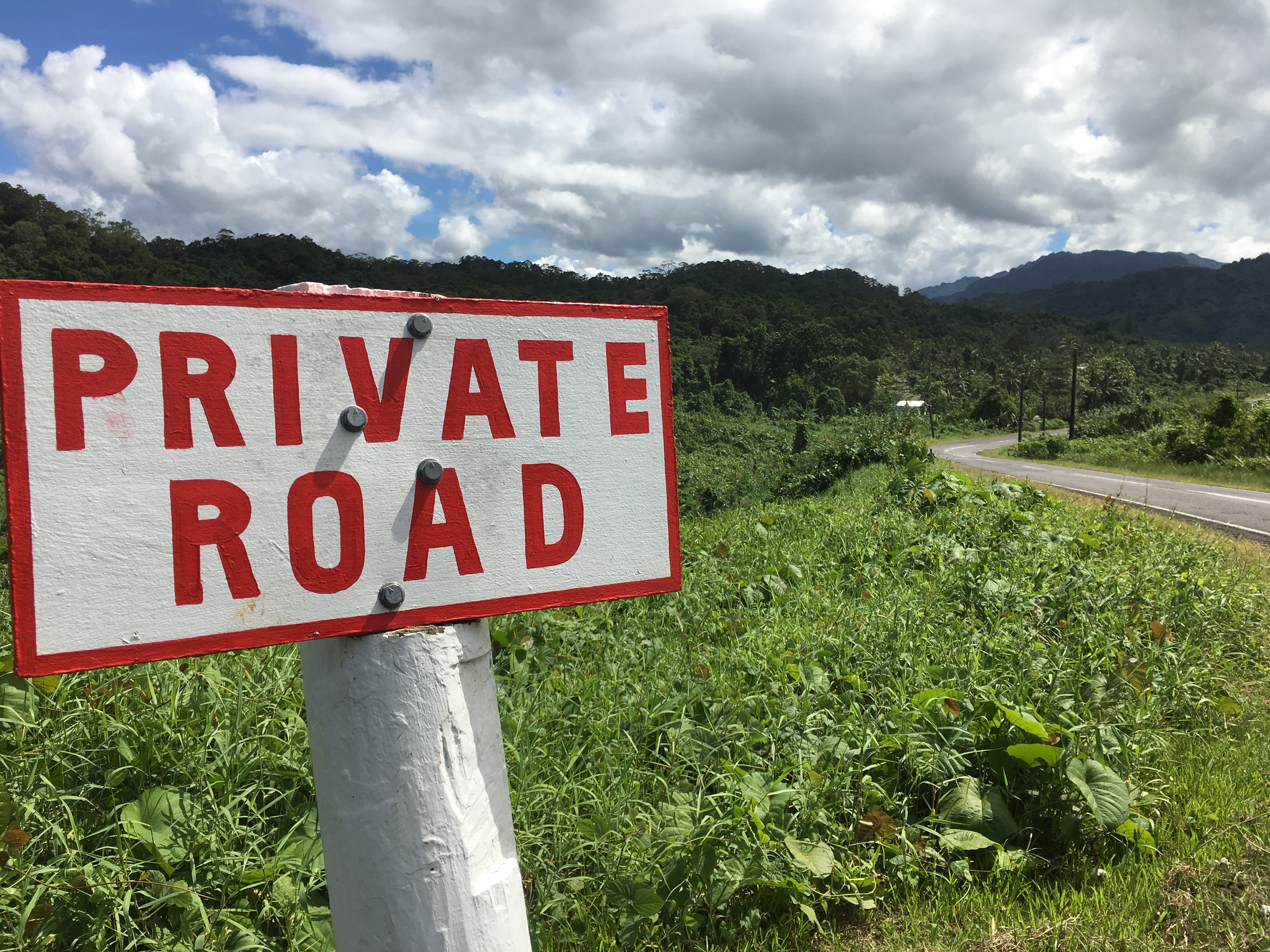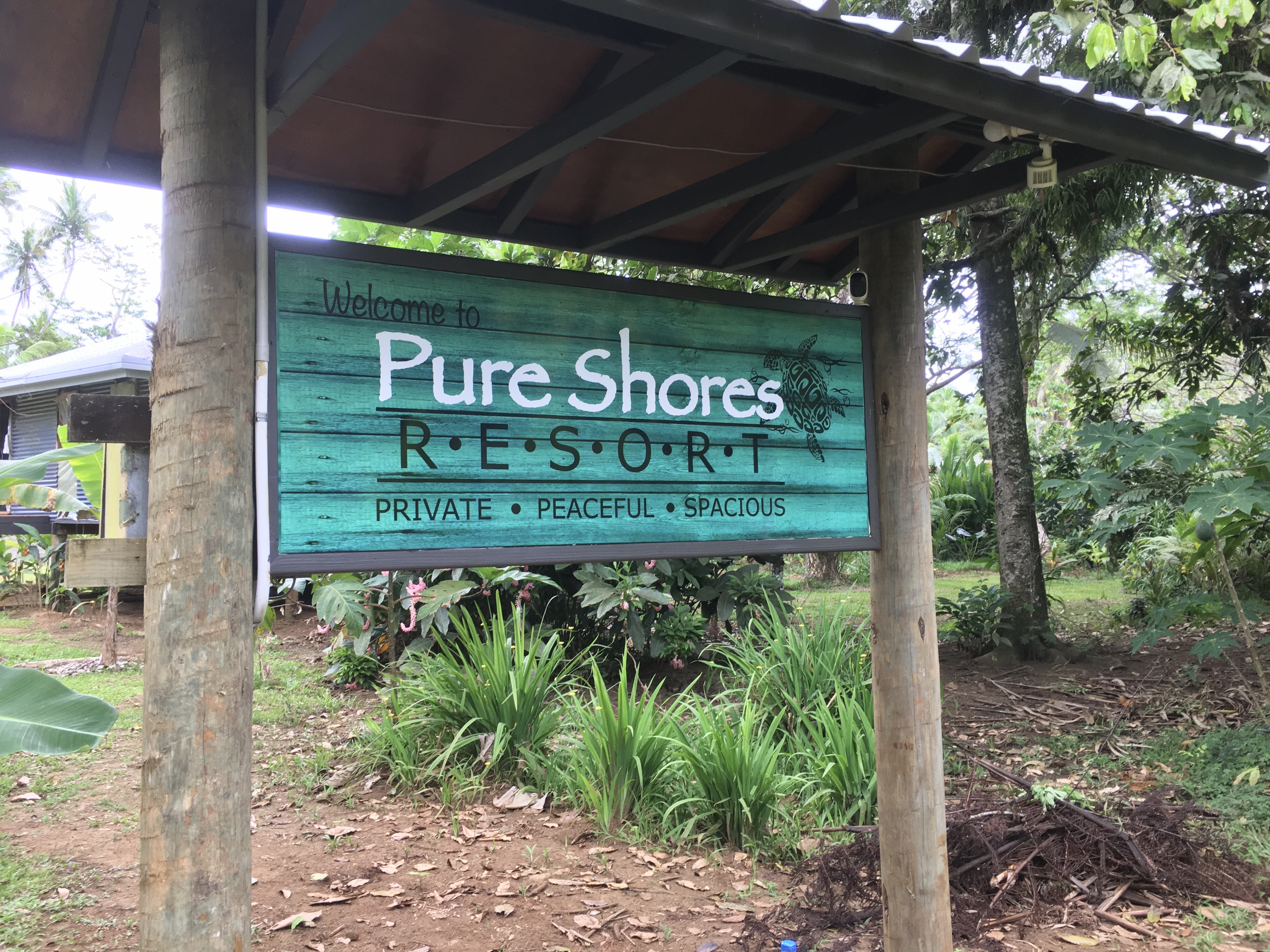 Immerse yourself in the serenity and beauty that is Sekawa, where the jungle meets the beach.
We are fortunate to have a private, soft sandy beach that is safe to swim at low and high tides. 
Most days, you will have the beach all to yourselves.
No busy roads to negotiate, no hills to climb. Just a short stroll from our Resort.
Our Villas are nestled in wonderful lush tropic gardens, with an abundance of fruit trees and flowering plants.
Help yourself to fresh coconuts, bananas, papaya and pineapples that grow on our 3 acre property.
Quoted Currency: Australian $
These rates are estimates based on current exchange rates. The rate that you pay may vary depending on the exchange rate that you receive at the time of payment.
Rental rates are for the entire property.
| Description | From | To | Weekly | Monthly | Week Night | Weekend Night | Minimum Stay |
| --- | --- | --- | --- | --- | --- | --- | --- |
| Additional guests using the double sofa bed. | 01 Jan 22 | 31 Dec 22 | - | - | $60 | - | 3 Nights |
| All Year Round Low Rates | 01 Jan 22 | 01 Dec 22 | $2205 | - | $350 | - | 3 Nights |
| Additional guests using the double sofa bed. 2023 | 01 Jan 23 | 31 Dec 23 | $500 | - | $80 | - | 3 Nights |
| All Year Round Low Rates 2023 | 01 Jan 23 | 31 Dec 23 | $2394 | - | $380 | - | 3 Nights |
We update our calendar regularly.
If you need specific dates, please do not hesitate to contact us.
We are flexible with check-in and check-out times. No additional charges apply for late check-outs.
I stayed at the Lilypond Bure for a week in August 2022 and was super impressed with the layout and location of Pure Shores Resort. The Bure had a great combination of a beachy and hippy vibe and was fitted out to perfection. Everything I could ever need for my stay was included. Such a relaxing setting and the bed was so comfortable, that I could sleep there forever!
The pool is an oasis set in stunning tropical gardens, shared by the two villas. And the best sandy beach on the island is just a few minutes' walk away!
Highly recommended.
This was not my first trip to Savusavu and certainly won't be my last!
Greg Stuart
12 Dec 2022
Pure Shores is all about relaxing. Comfortable couch inside for your Netflix fix or my favourite place, the egg chair on the front deck.
The bed linen is luxurious and bed is very comfortable. Well stocked kitchen, with the welcome hamper and laundry including washing powder is great. The pool is wonderful and we enjoyed some lovely relaxing swims. The beach is a two minute walk away and a lovely spot for an evening stroll or dip in the ocean.
Once you have stocked up at the market and supermarket, you need not leave the serenity of Pure Shores, just relax and enjoy. Be there at the right time and you may be lucky enough to have Aly and Rob give you some of their home grown bananas, yum .
Location Gold Star *****
Cleanliness *****
Staff/Service *****
Facilities Gold Star *****
Would Recommend Yes
Jacquie Stevenson
06 Sep 2022
I've lived and travelled abroad for a lifetime and recently decided to visit my home land, Fiji. After visits around Viti Levu and Vanua Levu, I came across Aly and Rob's Pure Shores Resort. Having done the standard research (google/social media/trip advisor), I was happy to book a 2-weeks stay. The booking process was as simple as it gets – the key is clear communications and Aly nails it.

When you're on a holiday, your day begins with, what would I like to do today rather than what do I have to do today? At Pure Shores, you ponder on this with your freshly brewed coffee in hand, out on the deck, with the native orange dove, chirping and dancing about in the most beautifuly created tropical garden. And that's just the beginning of any given day. The rest of your day is for you to create and this place is the perfect canvas for you to do that. I absolutely love the exclusivity and the natural beauty of this place.

Pure Shores Resort has been crafted with great attention to detail and care. For me, this place isn't 'home away from home', it is where dreams become reality. 

Vinaka Vakalevu Aly and Rob. It was a great pleasure to meet you and to stay at your amazing abode. I look forward to visiting again soon.
Alisi Nainoca
14 Aug 2022
Stayed in early 2022 with my wife. Lilypond surpassed what we were expecting, photos don't show just how spacious and beautifully finished the Bure really is. The gardens and grounds are superb, very private and filled with lots of flora and fauna, the variety of birds are amazing and we were so surprised to see up close the pair of resident Peach Doves! From our research, we were led to believe we would have had to travel to Tavenui to see these beautiful birds, not so!
Anyone wanting to enjoy total privacy could not go past Pure Shores Resort. It was so relaxing having the freedom to swim in the pool and walk around our Bure "au naturel", a true garden of Eden. Anyone who has stayed in the Tropics knows that a pool is a "must have", to enjoy your stay. The nearby beach which is just a short stroll is perfect. The hosts Robert and Aly are a very friendly easy going Aussie couple. Very helpful, but not in your face. We enjoyed their company going into town or having a few drinks by the pool. To sum up Pure Shores Resort is true to what their website states and shows in photos, very refreshing to stay somewhere and not be disappointed with false or misleading advertising. Having been to Fiji numerous times, Pure Shores Resort is the best we have stayed at!
David Johnson
05 Mar 2022
PURE SHORES RESORT ( LILYPOND BURE) was an exotic and interesting place to stay on Vanua Levu Island. The hosts ( Aly and Robert) went beyond the "call of duty" ( pick up and return to Savusavu Airport, sight seeing, grocery shopping, Covid 19 testing and excellent conversations) in assisting my wife and myself on our 7 night stay. The modern self-contained Lilypond Bure is indeed a work of art by Robert and is set admist a profusion of tropical foilage, orange doves and lush greenery everywhere. The best beach on Vanua Levu is only a short 10 minute walk from the bure ( I walked it many times at low tide). There is good snorkeling to the left of the beach. A BURE AND LOCATION OF EXQUISTE TASTE!!!
Les Cutler
24 Feb 2022
Aly & Rob were great when we stayed for NYE weekend! The property is absolutely gorgeous, super quiet and the salt pool is fantastic.
They were accommodating in our pick up & drop off at the airport as well as two separate trips into town for food; we also joined together and shared dinner one night.
We were floored at the spectacular views of the rainforest and the beach nearby was worth the short walk.
We would definitely return and bring friends and family!
*spacious rooms* *helpful owners*. *romantic atmosphere* *large suites* *thoughtful amenities* *quiet rooms*
Vani Farish
04 Feb 2022
Bula - we booked a few nights at Pure Shores during the Christmas holidays 2021. The place is heaven! The garden is beautiful, peaceful and quiet. It is peaceful and relaxing. The beach is a short walk away and stunning. The sand is soft and fine and the water is inviting. We loved snorkeling on the corals and the seagrasses. There were turtles in the bay that we saw from our paddleboards. If you are feeling really adventurous you can paddle down the river back to Pure Shores. The bure is very, very well appointed - it even had a coffee press! - with everything you need to cook a gourmet meal! To top it off, they have a resident Orange fruit dove that hangs around the bure all day. We have looked for this bird all over Vanua Levu and Taveuni - having it hanging out while drinking morning coffee was a joy! Cannot recommend Pure Shores enough!
Ken and Fareea
10 Jan 2022
Aly & Rob were wonderful hosts & went out of their way to ensure we were up to date with travel requirements.
From being picked up at the airport by a familiar face (cause I'd seen Aly's profile on WhatsApp that we used to communicate) to use of the kayaks delivered to the water and everything in between, it was an awesome choice of places to stay!!!
No crowds, help with 'self' catering, peaceful, a short hop to get to the swimming pool which we had to ourselves … I could go on and on.
Just stay there - hire a car - no need for 4WD and go!!!
Wendy Burdekin
15 Dec 2021
Our Pure Shores Resort experience began as we left the hustle and bustle of Savusavu Township on a scenic drive to the settlement of Sekawa. There's a lookout point along the way to show you the beauty of Savusavu Bay and the township from whence you've come, and as we turned off the main road down to our new home away from home for the next few days, we could feel the serenity of the location seeping into us.
Pure Shores is a boutique resort consisting of 2 indulgently self-contained open plan bures nestled in a "secret garden" like environment. Not water front, although the beach is a mere hop skip and a jump away, the gardens, which have obviously been a labour of love, seem to cocoon you and give you the privacy you want yet the space to explore. Swaying Coconut Palms, a variety of Helconia species and a lilypond with bright pink lily flowers greet you.
Inside the bures the attention to detail in the décor, fixtures and fittings is stunning. Design talent is evident and top-quality appliances and furnishings have been used. Although the layout is the same, each bure is independently themed. Our bure was super clean, had provision for recycling, had every comfort from home, and then some! I was overawed by the amazing ceiling fans. Bucket list items in our own home!
The bird life precluded the need for i-buds and made sure we had no need of the 55" TV! There was an endemic Orange Dove right outside my private deck area who wanted to engage in conversation, Kingfishers up high and those little red and black things darting about amongst the hibiscus, Kula Parrots flying between the towering palm trees and smaller colourful parrots flying across the pool area.
The salt water pool has been designed for maximum water purity, is tastefully tiled and is temperature friendly, even in mid-winter. Landscaped between the two bures, the pool area can be a social hub if you so desire, we did, but the pool and decking are both also large enough for solo sun baking or dipping if that's what you want.
We were staying at Pure Shores for some R&R, but there's a guest compendium full of local information about things to do, places to go, sights to see and experiences to be had. We were completely happy wandering about the garden, taking a long beach walk right to the mouth of the Nasekawa River snapping shots of the flora and fauna along the way and lounging in and beside the pool.
If you want to get away from it all for a few days, or need a place to base yourself that doesn't involve hustle and bustle this is the right place for you.
Thanks Alwyn & Robert; we'll be back!

Nicola Marsh
11 Nov 2021
This is one of the nicest accommodations I've stayed at in Fiji and we work away a lot!!
Drew Bristow
30 Jun 2020
The flight to Savusavu was spectacular, as was the land transfer to the secluded Sekawa Estate (only half an hour's drive) where we had our own private villa at Pure Shores.
Wow!!!
Stunning surrounds garden-wise and villa-wise, with every attention to detail and our needs met by the hosts, who ensured our stay here was memorable.
The soft sandy beach at Sekawa is a short walk through beautiful gardens, and even sitting on the deck with a coffee or a wine, brings an array of birds to watch and listen to.
Kayaking along Sekawa Beach and around a mangrove island was amazing! It's not unusual to have Sekawa Beach to yourself.
This is the perfect honeymoon destination.
We thoroughly enjoyed a tour of Kokomana Chocolate Farm in Savusavu and snorkelled one of the many beautiful lagoons where we saw loads of fish and colourful coral.
We will most definitely return to snorkel some of the other amazing reef at Savusavu.
Aly and Rob, the lovely hosts, had (on request) arranged for most of our meals to be catered for - which was a real bonus with delicious food every night.
Our only regret was not having stayed longer!
Kerry Jones
17 Jan 2020
pureshoresfiji@hotmail.com